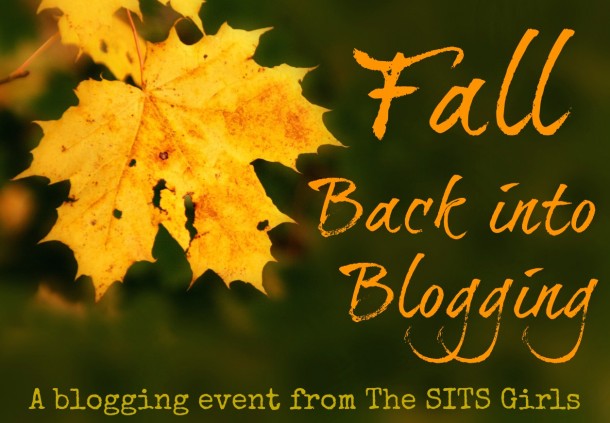 I'm linking up this week with the SITS girls because they're doing a week of fun prompts and I like fun.  And I like the challenge of writing to prompts on occasion.  I also like From Tracie and am down to be a part of anything she has a hand in creating.  And her hands?  All over these prompts.  Sign up here, if'n you wanna.
Today's prompt is to share something we look forward about fall.
Fall has always been my favorite time of the year.  The sun still shines after the work day is done, the air hovers at a pleasant temperature on most days and the nights require hoodies and snuggling up under blankets.  The clothes rule – tall boots, cozy sweaters, cute hats, scarves and gloves.  And the food is killer, both in taste and to the waist.  Comfort food sticks to more than just ribs.  Thick, creamy soups; warm, spiced baked goods; anything with pumpkin.
Fall kickstarts to the holiday season, it's like the gateway to awesome.  Adorbs little ghosties at the doo.  Trotting with the turkey and a rambunctious, friendly crowd at the Portland Zoo and then the gluttony that ensues.  Shining eyes and drop-jawed awe at all the Christmas cheer and goodwill and shenanigans.  It all sends me.  Especially with the kid being of perfect age for full magic appreciation.
The promise of the true new year (school year, obvi) crackles in the air with visions of freshly sharpened pencils, unmarred notebooks and robot backpacks dancing in my head.  The excitement of ALL.THAT.NEW. driving adrenaline through wiggly, little bodies.  New teachers, new friends, new skills to be accomplished.  And for mama, new teevee.
Premiere week gets my juices flowing.  I love seeing the old familiars, catching up, how's the wife and kids, how was your summer and all.  And checking out the new kids, seeing if we mesh, pulling for that weird, little show to hunker down and pull up its ratings so we can continue our new love.  I love the continuity of those relationships and how they're parceled out over time.  I adore the long stretch of uninterrupted weekly episodes.
But there's another side to fall, one that's less charming and glorious and settles like a dark and rusty mantle just about this time every year.  I read about the rapid light change phenomenon and it all clicked into place.  No wonder my broken-down synapses resist the allures of the luscious, lovely fall despite all the wonder that populates my life.  Depression is a wily fuck and can topple you when you least expect it.  If you're like me and have an inclination towards shaky mental health (depression, anxiety, any other diagnosis  from the grab bag of mental disorders) be aware of the possibility of trigger time and take some steps to help you cope.
Light box therapy, cognitive behavioral therapy, exercise, motherfucking laughter, scheduling time with friends and family, writing, singing, piña coladas or getting caught in the rain, a host of other things that work for each of us.  Reach out.  And, when you feel that pressure crushing you like a crumpled paper bag, take a breath and remember the light will slow down and this too, will pass.
This world needs every one of us for as long as we can manage to dig our nails into the earth and hold on.  And yes, that means YOU.
 National Suicide Prevention Lifeline
1-800-273-TALK (1-800-273-8255)