Why aren't you in bed?
It 4pm and my kid isn't nocturnal.  Unfortunately.
Did you do laundry today?
I'm saving that for tomorrow.  I am currently in the procrastinate all the things stage.
What kind of computer do you have?
Orange.  Is that a kind?  It's a PC of some sort.
Are there always other fish in the sea?
Sure.  Also this.
And this guy.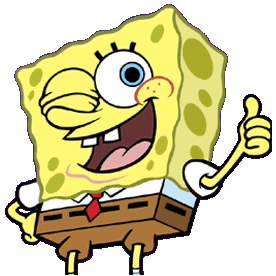 What can you do with your tongue?
Form the words up yours as I flip you the double bird.
Can you say all 50 states in alphabetical order?
I may or may not be able to name all 50 states if given an hour and the internet, but why would I want to?  I do know there are fifty altogether, but really only five that count.
Do you have atleast 2 windows in your bedroom?
We have one window that is covered in various forms of light blocking coverage.  We like the light in our room blinking and coming from technology.
Last time you babysat?
I want nothing to do with other people's children right now.  But I will hold any sleeping baby for an unlimited amount of time.
Do you plan your outfits out the day before?
Yes.  I have a sleeping disorder that makes me unable to go to bed before 1 am or wake the fuck up in the morning and I have a kid.  Anything that will give me an extra 12 1/2 seconds in Snoozetown USA.
Favorite Pro Sports team?
Sports blow.  I like the Cubs because I always have, because Wrigley Field feels like America to me and because they always lose.  You know, lovable.
What is the last thing you bought?
Meat.  I got takeout BBQ for the boys.
How many peircings do you have?
Multiple ear piercings, but I rarely even fill the first holes.  Not much for the jewelry.
Can you touch your toes?
I'm going to go with maybe.  I haven't tried lately and I am getting pretty old and wretched.
Where in the world is carmen sandiego?
A better question would be, who in the fuck is Carmen Sandiego?  Her name is kinda badass.
Favorite person to be with?
Yer mom.
Ever been on a blind date?
No.  I did go on a date with a eHarmony dude.  He was nice, but it turns out I was more into the way I wrote to him than the actual him of him.  My letters were amazeballs.  I saved them for a long time because I loved the way I wrote.
Do you believe in God?
Yes.  No.  Maybe.  Repeat.
One place you will NEVER eat at?
McDonald's.  I would rather eat my own vomit.
Would you date anyone you met online?
See above.  That was my one experience.  It wasn't bad, but it wasn't good either.  It was much more enjoyable in the emailing phase.

Opinion of Chinese symbol tattoos?
That was the third tattoo I ever got.  It was in the late 90′s in Bozeman, Montana from some guy named Gerald.  It the Chinese character for transformation inside a butterfly.  It's actually cool with me if it really reads, truckers do it on the road or, try Chun King for your beautiful body.  It means what it means to me.  Transformation is kind of my deal.  And butterflies are a family thing and represent my grandma.  It's in the middle of my back so I'm basically the originator of the tramp stamp.  Which is hot.  Probably.
Are colored contact lenses sexy?
(AP Photo/Twentieth Century Fox, Nigel Parry)
Sexy is not the word I'd use.  Although I do love me some Lorne.  Now, give me an ill-tempered, bitey vampire and I'll sing a different song.
Have you ever been white-water rafting?
When I was maybe 19, I went on a raft with my sister, mom and aunt.  It was in South Bend, IN and the waterway was jacked up from some race shit that they do there.  We had no clue what we were doing and the raft flipped almost immediately.  I was screaming for my mom.  I thought I was gonna die.  The closest I'll ever get to that again is the log ride at Disney.
Have you met a real redneck?
I lived in Texas for half of my life.  Several years of that was spent in College Station.  I don't think they grow them any other way.
What was the last movie you watched?
Silver Linings Playbook.  It was good.  Funny, sweet.  But I'm not overly fond of the whole mental illness as comedic fodder thing.
What do you usually order from Starbucks?
God, I love coffee.  So I don't drink it.  Obvi.  Addiction runs deep in this girl.  When I first got sober, I upped the cigs to two packs a day and stopped eating everything but sugar and coffee.  Although not together.  I like my coffee black as sin and iced.  Starbucks is a rare occurrence when the husband wants it.  They have these breakfast sammies that rule though.  And sometimes I'll have a hot chocolate although I'd rather have it from the Oregon zoo.  That shit is dope.
Have you ever fired a gun?
No.
Do you like Michael Jackson?
I like his music.  I have always been smitten with classic R&B and soul.  The Jackson 5 were not my faves, but I did love them.  And MJ had some good shit too.  Thriller was pretty badass and Bad was not bad too.
MJ the dude?  I feel for him.  He was fucked up early on and it just continued unchecked.  I feel bad for the kids I believe he abused.  I do get the feeling that he really felt like he was a kid so he probs didn't feel it was wrong.  But enough people accused him and were subsequently shut the fuck up.  You gotta believe the children, yo.
I also feel bad for his kids.  I've seen them on Ellen and they are just as awkward as he was.  I hope they grow out if it, but who could be any shade of normal growing up in that kind of life.  I would off myself on the second day of being trailed by the poppers.
Ever call a 1-900 phone number?
Do they still have those?  The internet be free, y'all.  And the filth abounds.  Save your dolla bills for the club.